Contact
You can reach us directly by form, call or booking an appointment.
Please chose of the type of your request.
Contacting us is easy: Please use the appropriate tab. Your request will be forwarded to the corresponding employee in Berlin or Hamburg and answered as soon as possible.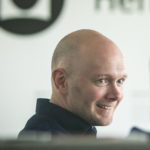 Sascha Glüsing
Head of Sales
"I will try to process your request within one day. In urgent cases you can reach me by phone."
Visit wexim.
From the Berlin centre you need about 35 minutes to reach us. Our Hamburg office is centrally located at the port. We have one secretariat for both locations. Book an online appointment at both locations. We ask you to at least allow one day's notice.
Berlin
Marienburg
wexim gmbh
Lankwitzer Str. 14-15
12107 Berlin
Back Office
Tel.: +49 (0) 30 577 084 150
Nicolas Fuchs
Tel.: +49 151 54837296
Mail: nf@wexim.de
Hamburg
Baze Business Center
wexim gmbh
Am Baumwall 7
20459 Hamburg
Back Office
Tel.: +49 (0) 30 577 084 150

Sascha Glüsing
Tel.: +49 151 548 63703
Mail: sg@wexim.de