Office planning
We change the perception and use of your office environment for your employees to work in a more productive and motivated way.
Office planning
We change the perception and use of your office environment for your employees to work in a more productive and motivated way.
New Work
We live the latest concepts ourselves and gladly pass on our expertise.
Flexibility
Interim storage or immediate delivery? All according to your schedule.
Budgeting
No unpleasant surprises. We keep our price promise.
Installation
We take over the installation completely. No complicated parts for you.
Availability
We keep our most popular products in large quantities in stock.
I. Planning Phase
We can join your project at each stage. In order to quickly find a solution together, we tackle the task directly.
In a complete redesign of your office, we rely on three pillars: Ergonomic design, advantageous acoustics and a sustainable development of the office space. Find out here how our project planning works step by step.
Kick off
Room measurement
Acoustic measurement
Product advice and furnishing suggestions
Conceptual interior design & identification of suitable office concepts (e.g. Living Office)
Acoustic planning
Employee participation
Conception
Floor plan
Different ways of spatial planning

in colour and 2D
High-quality renderings
3D walk-throughs

Continuing or revising existing plans
Sourcing
Procurement of furniture from the manufacturer
Furniture rental and leasing
Extension and conversion of existing furniture
II. Execution phase
We can also join into your project here. First of all, we set up a process and installation plan so that nothing goes wrong, even with high volumes.
Are you an architect or project manager? We are happy to take over communications with manufacturers, logistics and installation. So that you can focus on your core tasks. To ensure that the new furniture bears fruit with its users, we offer after-sales training on the correct use of the office furniture, e.g. seating training.
Project management
Process planning
Installation planning
Furniture installation
On-site support and close customer contact
After-sales support
Warranty services
Employee training (ergonomics consulting & seating training)
Quick re-orders
Warehouse logistics
Professional interim storage
Moving – recycling – new furnishing
Acting according to a sustainability concept (ISO 14001 Packaging, products, transport) and principles of recycling management
Your contact at wexim.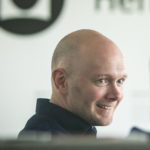 Sascha Glüsing
Head of Sales
Sascha knows Herman Miller like the back of his hand. After five years with the US-American brand, the probably friendliest salesperson of the world manages sales in the port of Hamburg since 2013.